About Us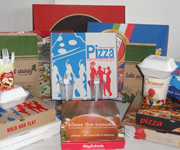 We have UK sole agency arrangements and exclusivity contracts in place to sell and distribute products of some very carefully selected manufacturers based all around the world. All our products go through stringent checks and controls to be able to supply our customers with only the best products.
We can help design and make custom print packaging boxes in our factories and arrange delivery directly to our customers' premises. We also keep huge quantities of stocks in our purpose built 6000 sq ft warehouse based in Waltham Abbey at all times and can supply smaller quantities or mixed products at a very short notice.
TK Packaging have been successfully supplying some of the major wholesalers and foodservice companies in the UK for years and we at TK Packaging believe we can meet your packaging requirements while offering very competitive prices, exceptional product quality and a high level of service. Excellence in service and quality is what we strive for and what sets us apart from the rest...
TK Packaging specializes in supplying all types of food packaging products to the foodservice and the catering trade.
Pizza and Fish & Chips Boxes
Polysterene Food Containers & Trays
Plastic Cutlery
Paper Rolls & Servittes
Paper Bags